Churchwarden's Yearbook 2020
Now at its post-Easter Price of £8.95 direct from Churchwarden Publications.

Allowing newly-elected churchwardens and others to use the yearbook for the remainder of the year at a reduced price.
: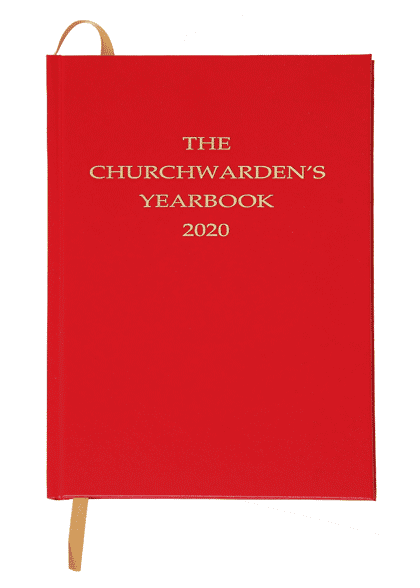 Foreword by The Most Reverend John D E Davies, Archbishop of Wales

Details
A5 (210x148mm) hardback bound in hard-wearing, good quality, faux leather, red in colour, with gold-blocked titles on front cover and spine. Gold-coloured ribbon bookmark, 160 pages.
Cover Price: £15.00
Now £8.95 and free delivery direct from Churchwarden Publications
Advent 2019-Epiphany 2021, with extra pages for planning 2021.
One week-to-view, starting on Sundays.
Naming of all Sundays, Principal Feasts, Holy Days, Festivals, Lesser Festivals, Commemorations and Saints' Days in the calendars of the Church of England and the Church in Wales for 2020.

Common Worship readings (year A) for the Principal Eucharistic Service and Book of Common Prayer readings for Holy Communion for every Sunday, Principal Feast, Festival and Holy Day.

Liturgical colours for every day of the year.

Notification of flag days, church-related events, bank and public holidays.

Items of local, national, traditional and customary interest.

Times of sunrise and sunset.

Four-year calendar, year planners for 2020 and 2021.
Extra pages for names, addresses, notes, churchwardens' expenses.
Brief outline of churchwardens' duties and responsibilities.
Details of helpful organizations, including sources of finance.
Recommended reading matter. Periodicals, information and reference books.
Contact details for all Anglican dioceses in England, Wales and Europe: bishops, archdeacons, diocesan offices, diocesan secretaries, DAC secretaries, safeguarding advisers, communications officers and registrars.
Religious festivals of other faiths.
Parochial Fees Tables for the Church of England and the Church in Wales.